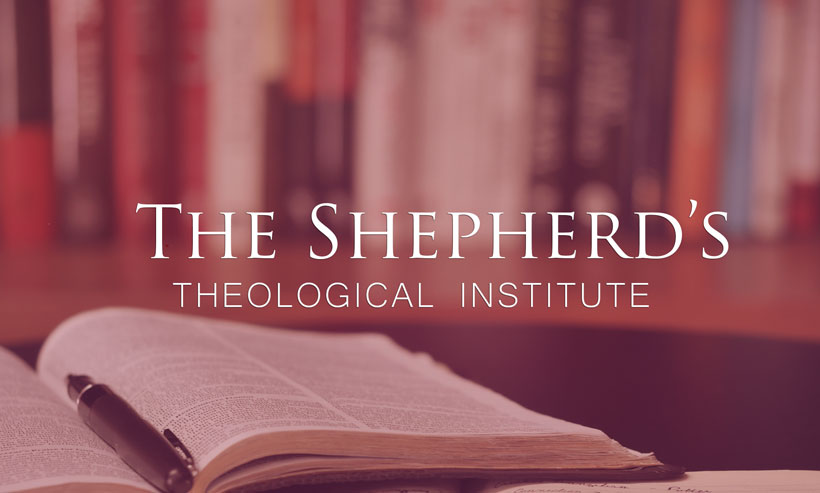 Shepherd of the Hills Church is proud to serve as an authorized branch of Institute of Theology by Extension (INSTE) Bible College, right here on campus!  The program we have been approved to offer leads to a Certificate of Christian Ministry.  It is four (4) semesters long.  During each semester students will take one class.
How It Works
•  Students will gather weekly for class with their cohort group.  This will be the same group they meet with for the duration of the program.
•  Each week's class will consist of prayer, group discussion of the week's lesson, and a short quiz.  There will be a final exam at the end of the course but don't worry - you will be well prepared and all the questions come from your weekly quizzes.  
•  Although individual needs will vary, students should expect to devote between 30 minutes and 1 hour per day for five days per week to their studies.  Class will meet on the sixth day for approximately 90 minutes.  There is no work required on the seventh day.
•  Throughout the program students will learn and apply methods of scripture memorization.
•  Each class is worth 2 Semester Credit Hours that may be transferred to other institutions of higher learning.  Please note the receiving institution determines credit transfer eligibility.  
Semester Information
Semester 1 - Discipleship 1
Discipleship 1 explores the basics of the Christian faith.  Students will become familiar with different methods of Bible study, prayer, the plan of salvation and other theological concepts.  In addition, students will be able to articulate the plan of salvation and their own personal testimony.
Semester 2 - Discipleship 2
Discipleship 2 continues with the same theme as Discipleship 1.  Students will continue their study of theology to include studies of prophecies, angels, demons, and other (deeper) theological truths.  
Semester 3 - Old Testament
Old Testament takes students through all 39 books of the Old Testament.  Students will read each book, in sequence, and learn important facts about each one.  Some books will be studied individually while others will be viewed in conjunction with other, similar Old Testament books.
Semester 4 - New Testament
New Testament follows the same method as Old Testament.  Students will be exposed to the gospels, the different epistles of Paul, the different authors and themes of New Testament books, and study Revelation.  Because there are fewer New Testament books than Old Testament books, more time will be devoted to each one than in the Old Testament course.
About the Program
·      Small Group Based – classes are based on the small group design.  Meaning, there is no "professor's lecture."  Rather, students will sit around a table and a certified instructor will guide the group in a conversation of the topic.
·      Affordable – classes are worth two (2) credit hours each and cost just $90!  And that INCLUDES your book!
·      Accredited – All classes are fully accredited by the Distance and Education Accrediting Commission – a US Department of Education recognized accrediting body.
·      Convenient – classes meet once per week, in the evening for about 60-90 minutes.  The rest you do at your convenience.  The book will guide you through the daily study time but you pick when you study!
·      Relational – The groups are cohort groups, meaning you will begin with a group and progress through the entire program with the same people & instructor.  This means you will develop relationships with people and connect in a way you never would have otherwise.
·      Equipping – during the program you will learn more about the Bible, theology and other important aspects of faith.
·      Easy to Join – you do not need to be a high school graduate to enroll.  You need to be a believer, at least 16 years old, involved in your church, and have the support of your pastor – THAT'S IT!
·      Non-Denominational and Inter-church – you do not have to be part of any particular denomination to attend.  In fact, experience shows the classes are enhanced when Christians of different denominational backgrounds attend the same class.  It improves discussion and brings perspectives otherwise not considered.  It also means you do not need to be a member of Shepherd of the Hills to attend.
Classes are currently in session.  Please pray for our students and instructors as they journey together.
Registration
If you would like to enroll please contact the church.  We will take your name, phone number and email address, and provide you with information regarding tuition and registration.  Thank you!
Instructor Faculty
Dr. Collin Monger 
Dr. Monger serves as the Senior Pastor and Bible Teacher of Shepherd of the Hills Church and Light the Way Ministries (a radio-based ministry that airs weekly).  He has authored two books and holds a Bachelor of Arts in Biblical Studies, a Master of Arts in Biblical Studies and a Doctorate of Theology.  He currently teaches our Monday night class.
Nick Korchowski
Nick serves as a regular Sunday School teacher and small group leader at Shepherd of the Hills Church, where he grew up.  He holds a Bachelor of Philosophy and Theology and currently teaches our Thursday night class.
Pastor Charles Rowdon
Pastor Charles serves as Executive Pastor at Shepherd of the Hills Church.  He has a background in ministry and has previously served in both full-time and bi-vocational ministry.  Charles holds a Bachelor degree in theology.
Pastor Lucas Hahn
Pastor Lucas serves as Youth Pastor/Pastor of Worship at Shepherd of the Hills Church.  He has a background in youth ministry and missions.  Lucas holds an Associates degree in ministry.